Sara Goldsmith May 16, 2017 11:22:04 (EDT)

Greetings Kamp Kewaneeans,
My Dad is JP Goldsmith, camper '55-'60, counselor '63-'67. His 70th birthday is this Sunday, May 21st. I thought it might be a fun surprise to locate pictures/quotes/stories from his time at Kewanee. If anyone would like to share pictures/quotes/stories about JP, please email me at goldsmith.slg@gmail.com. I greatly appreciate it, thank you!
---
Robert Cohen May 3, 2017 08:44:34 (EDT)

Knocker knocks for lunches I've enjoyed this year with Lee Kalcheim in New York, Michael Lieberman in Oceanside (California), and Steve Moses in Palm Springs (also California)! Almost made me see if there were any KKers lunching in La Plume!
---
Norm Schultz April 27, 2017 20:29:52 (EDT)

I'm sorry to all old kampers that my brother Steve Schultz passed away on April 20th 2017. He talked about Kewanee often. He was at Kamp from 1945 thru 1950.I will miss him!

Norm Schultz 1943 thru 1949
---
Norm Schultz April 27, 2017 20:13:16 (EDT)

I'm sorry to tell you that my brother Steve Schultz passed away on April 20th: He was at Kewanee from 1945 thru 1950-talked about Kamp often. Among many others I will miss him very much!

Norm Schultz: 1943 thru 1939
---
Sandy Jo April 25, 2017 10:01:19 (EDT)

Tiger, got to Pigeon Forge, daughter has a schedule for everyday, sorry that I did not get a chance to see you. Hope everything is well.

---
Steve Buch April 18, 2017 18:04:12 (EDT)

Former Kamper and close friend of my parents, Richard Goldsmith has passed away. Dick was the father of J.P. Goldmsith whom many of you will remember. Condolences to the Goldmsith family.

http://obits.pennlive.com/obituaries/pennlive/obituary.aspx?n=richard-s-goldsmith&pid=185120426
---
John Spear April 6, 2017 13:03:57 (EDT)

Ted Bromwell will be 90 April 22. His phone number is 412-321-4118. I hope some of you who remember him will give him a call.
---
Bob "Tiger" Levy April 1, 2017 17:23:06 (EDT)

Donald Trump is notorious for not paying his bills and has relied on his Russian connection to bail him out on occasion. He might need to do so again someday so he can't afford to offend them. That's why this little- noticed local event is so telling.
A Russian and a Czechoslovakian recently visited the Great Smoky Mountains National Park. They were attacked and eaten by a mating-pair of black bears. The Park Rangers got there too late, and had to shoot both bears.
The Russian Ambassador, Sergey Kislyak, was appalled and demanded Trump make the US government find his countryman's remains.

Confronted with this, Trump & the ambassador came in person to Knoxville TN to pressure the park service to cut open the female bear. When they did as ordered, Trump pointed and said to Kislyak "There, these are the Russian's remains."

Kislyak asked, "How do you know this one is the Russian?"

Trump replied, "Because the Czech is in the male."

---
Bob "Tiger" Levy April 1, 2017 17:22:06 (EDT)

Am very sorry to hear this news. Have many wonderful memories of you, John, & wish you well. Bob
---
John Spear March 26, 2017 14:36:56 (EDT)

How lucky I was to have Dick and Joan David Sundheim, Chuck Half, David Breakstone And I have heard from David Lowenstein , John Weiner and Trippy Fleishman all from Kamp Kewanee .
Janet was active in many organizations in the Pittsburgh community and they all had representatives at her funeral last Tuesday. It was a huge event. She deserved it.
---
Chuck Half March 21, 2017 16:43:55 (EDT)

KK friendship bonds go deep and can be wonderful heartache reducers as evidenced today at Janet Spear's funeral service. Dick Sundheim served as an honorary pallbearer. Nehru was John Spear's kounselor.
---
Bob "Tiger" Levy March 7, 2017 12:55:26 (EDT)

Am sorry to hear of Jim Ratner's passing, but delighted to have read great article about Lew Klein. From my work with TN universities, I kan attest that having a kollege named after you is a VERY big deal. Kongrats to all the Kleins.
Kool & rainy here today but daffodils, hyacinths, lenten roses, tulips, etc are blooming like krazy & tell us that spring is here!

KKW,
Bob "Tiger"
---
John Spear March 4, 2017 10:18:30 (EDT)

We lost Jim Ratner, Of Greensburg,Pa(now Florida) last night. A
Kewaneean of 1950? 1951? He loved Kamp and has been ill for many years.
---
Stephen/"Bugs" Melnikoff March 2, 2017 12:02:08 (EDT)

Wonderful article, even though it misspelled "kamp" and failed to mention KTG. Kongratulations, a great tribute to Lew!
---
Steve Buch February 25, 2017 07:51:46 (EDT)

Another article about Lew Klein on philly.com.
---
Bruce Asam February 19, 2017 11:53:45 (EDT)

Kamp Songs - there are some songs that always remind me of Kamp because they were played non-stop during the summers I was there. I remember "In The Summertime" by Mongo Jerry and "Take It Easy" by the Eagles. I heard one the other night at my local record store - "Timothy" by the Buoys. It was a local hit since the band was from Wilkes Barre. I immediately said I remembered the song and a woman there said her father was in the band! Great memories. Then there are the memories of John Samuels playing Neil Young songs on his electric guitar...
---
WFIL Klein February 14, 2017 18:47:58 (EDT)

Proud to share this press release from Temple University about my dad. It starts: "In tribute to broadcasting pioneer Lew Klein, who has spent more than six decades teaching at Temple University and mentored hundreds of TV professionals throughout his career, the university's School of Media and Communication will be renamed the Lew Klein College of Media and Communication."
---
WFIL January 25, 2017 17:05:58 (EDT)

Tiger sent in this photo from the 60s. Thanks, Tiger!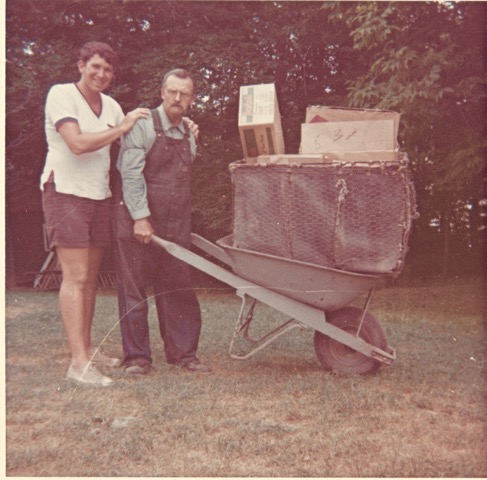 (Click image for large version.)
---
BS Cohen January 24, 2017 21:36:51 (EDT)

Delighted to hear about Doc. Lew Klein's great honor of having the Temple University of Media and Communication named after him this coming spring. KeeKeeWah! And happy to hear from Sandy, Tiger and Steve in the January Knocker spots!
---
Sandy Jo January 23, 2017 18:06:57 (EDT)

Thanks Tiger...We have rented a house somewhat in the mountains. My daughter has spoken to the owner several times and they have assured us that there is no fire damage within their area. We will be arriving on the 19th of April. and staying till Sunday. It's six of us. Will contact you before going. Thanks
---