Thanks to Steve Buch ('57 – '62) for sending us these pictures.
"Phil Siegle and I were tentmates in 1961. Phil came east (he lives in CA) for his 50th high school reunion a couple of years ago [2016]. He was staying with a friend in Yardley were we live. We got together for lunch and we decided to take a selfie. I then found a picture of the two of us from 55 years earlier. I thought it would be fun to share on the Knocker.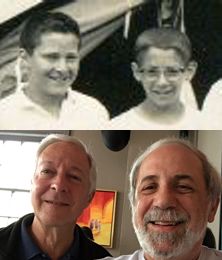 "I also found a few more that I don't think I've shared before. I think they are from visitors day 1959 (or maybe 58.)"
Steve Buch ('57 – '62)